Olen kovasti ihastunut Gorenjen kodinkoneisiin. Heidän kodinkoneet edustavat tyylikästä muotoilua ja monestikin aika futuristista ilmettä. Heillä on myös mallistossa valkoisia kodinkoneita mitä itse toivoin keittiööni. Päädyimme seuraaviin kodinkoneisiin Gorenjeltä:
Jag gillar verkligen Gorenjes virvaror. De har en användarvänlig och elegant utformning och inslag av futuristisk design. Ett måste till mitt kök var vita vitvaror med fina teknologiska lösningar och dessa har jag nu hittat hos Gorenje. Vi har nu köpt följande vitvaror till vårt nya hem från Gorenje:
I love the futuristic look of Gorenje home appliances. I wanted all home appliances to be white but with the latest cutting-edge technology. Here is a combination of great design and look. We have now bought following home appliances for our new kitchen:
Gorenje design by Karim Rashid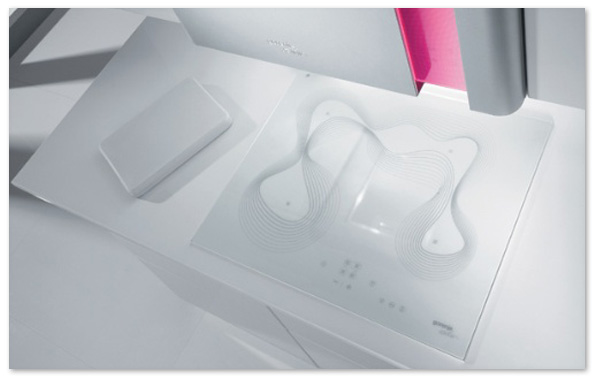 Valittiin meille New Yorkilaisen Karim Rashid:in suunnittelema induktiotaso IT641KR. Tasossa on kiehautusautomatiikka, jälkilämmönosoitin sekä neljä Power Boost aluetta. Markkinoilla ei todellakaan ollut monia valkoisia induktiotasoja tällä hetkellä. Meidän keittiössa on muuten valkoinen komposiittitasot niin tämä sopii loistavasti siihen.
Vi valde till vårt kök en läcker induktionshäll som designer Karim Rashid. Modellen är IT641KR. Karim Rashid är en mycket produktiv och nytänkande designer. Den lockande designen med linjer i grafiskt mönster ger en diskret och samtidigt sofistikerat intryck. Karim Rashid har utmärkts med över 300 designpriser och hans design har ställts ut bl a på Museum of Modern Art i New York och Centre Pompidou i Paris. Designern från New York är den tredje i raden av kända designers som Gorenje har samarbetat med.
Induktionshällen är utrustad med fyra energisnåla och mycket effektiva kokzoner, och som man styr enkelt med ett fingertryck på touch-kontrollerna. Samtliga zoner har booster-funktion för snabbare uppkok och timerfunktion som stänger av zonerna separat efter inställd tid. Med kokkontrollen aktiverad förhindras också överkok automatiskt. Dessutom kan man lämna hällen tillfälligt med StopGo-funktionen, och som då varmhåller maten tills man är tillbaka.
Hob - Touch the Magic
The hob is designed by designer Karim Rashid. New York-based designer is one of the most prolific designers of his generation. Over 3,000 designs in production, over 300 awards and working in over 35 countries. He has undertaken project for hundreds of clients all around the word, such as: Alessi, Audi, Cappelini, Esteé Lauder, Giorgio Armani, Issey Miyake, Kenzo, Prada, Sony, Toyota and Umbra just to name the most prestigious ones.
With this white glass hob cooking is a pleasure. The experience of gentle feel and creative inspiration. Innovative and technologically perfected hobs turn the most challenging culinary endeavours into playful creation and pure aesthetic pleasure. The alluring lines in the graphical pattern will seduce all senses.
The cutting-edge cooker boasts speed, low energy consumption, safety and thouch control. The PowerBoost function additionally ups the performance and capacity of the induction cooker. The instantaneous response prevents liquid from boiling over and spares the tedious cleaning.
Gorenje Ora-Ïto
Gorenjen Ora-Ito mallisto on aina käyttänyt yksinkertaisia linjoja, laadukkaita materiaaleja ja huipputekniikkaa. Mallistossa orgaaninen ja futuristen muotokieli yhdistyvät lähes taiteellisella tavalla. Koneiden ulkopinnat ovat liidunvalkoisia, jotta ne heijastavat keittiö valaistusta. Vetimet on valmistettu harjatusta alumiinista, mutta niitä on myös saatavana mustana tai ruostumattomasta teräksestä. Huipputeknologiakaan tuotteista ei ole unohdettu.
Suunnittelija Ora-Ito on palkittu useista töistään ja hän suunnittelee tuotteita useille maailman suurimmista tuotemerkeistä, kuten Heinekenille, Adidakselle, L'Oréalille, Toyotalle ja Davidoffille. Tästä mallistosta löysimme keittiöömme liesituulettimen, integroitavan mikron sekä uunin. Kaikki ihanasa hohtavassa valkoisessa värissä. Mikroa ei myydän Pohjoismaisilla markkinoilla joten sen tilasin Belgiasta.
Vår köksfläkt, microvågsugn samt ugn kommer från Ora-Ito kollektionen. Denna supermoderna och en aning futuristiska kollektion har den franska designern Ora-Ito designat. Kollektionen är elegant och användarvänlig med moderna tekniska lösning och material som metall och glas. Det stilrena formspråket är kännetecknande för hela serien. Produkterna vi har valt är utformade i vitt. Själv instämmer jag med designaren att desto mer komplicerade hushållsmaskinerna blir, desto enklare design behövs.
Den främre ytan av vitvarorna är kritvit, vilket innebär att de reflekterar ljuset i köket. Handtagen är framställda i borstat stål på de modeller vi har valt men de finns även att få i rostfritt stål eller helt i svart. Ugnen är en Gorenje HomeMADE-ugn som är välkänd för sin välvda design, hämtad från traditionella italienska vedeldande bakugnar som garanterar en jämn värmefördelning och gör den perfekt för bakning.
Designed by Ora-Ito for Gorenje, this kitchen concept has a futuristic design, straight lines, very clean and cube-shaped with rounded edges. Ora-Ïto characterizes his recognizable style as simplexity; combining simplicity and complexity. As result he gets futuristic and provocative product. All appliances from the collection made from white glass with aluminium handles. All of them have clean, minimalistic design where everything has a purpose. Are these tomorrow's classics? We have chosen now our oven, microwave oven and hood from this lovely collection.
Uuniksi valittiin kalusteisiin asennettava uuni pyrolyysillä, malli: BOP880RAW. Monitoimiuunin tilavuus on 60 l ja toimintoja mm elektrooninen toimintojen ohjaus, DirecTOUCH display ja erittäin suuri paistopinta-ala.
Som ugn valde vi en inbyggnadsugn med pyrolys, modell BOP880RAW. Det är en 60 liter multifunktionsugn inklusive DirecTOUCCH display, supersize matlagningsyta samt mekanisk temperatur kontroll.
Built-in pyrolitic owen.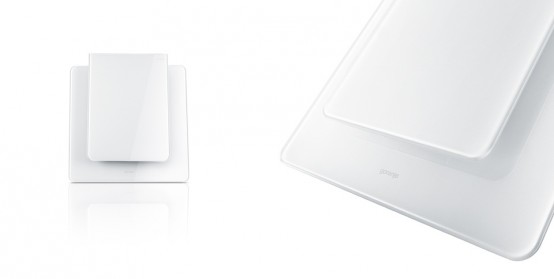 Liesituulettimeksi valittiin DKG552ORAW. Siinä on seinään kiinnitys ja ohajuspaneeli on tuultettimen sivussa. Tuulettimessa on käytetty kaunista maitolasia.
Fläkten är en väggmonterad modell DKG552ORAW. Den är utformad i vackert vitt glas. Den har funktionsknapparna på sidan.
Wall mounted cooker hood.
Mikrouuni on malli BM6250ORAW ja mallia ei tosiaan myydä Pohjoismaisilla markkinoilla. Tilasin mikron itse Belgiasta, koska halusin kalusteisiin sijoitettavan samaa muotokieltä olevan mikron. Mikro on aika perusmalli ja siinä on myös grilli toiminto. Mikron teho on 1200 W. Meillä käytetään mikrouunia lähinnä ruuan lämmittämiseen sekä popcornien valmistukseen.
Ora-Itos inbyggda mikrovågsugn fanns ej på den nordiska marknaden så jag beställde ugnen på nätet från Belgien. Ville ha att vitvarorna skulle alla vara i samma design. Modellen är BM6250RAW. Mikrovågsugnen har grill och den har 1200 W. Använder främst mikrovågsugnen att värma mat i och vi gör gärna popcorn i den.
Built in microwave-oven with grill.
(Pics and source: Gorenje)